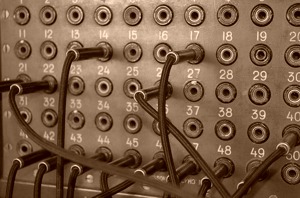 In 1905, a group of farmers decided they needed telephone service. That brought about the creation of Columbus Telephone Company with the implementation of a central switchboard and phone wires ran among-none other-than tree branches. Throughout the decades CTC quickly advanced with the booming telecommunications industry by staying ahead of technological advances – despite having only a 2.4 mile serving area. Fast forward to 2004 when CTC became the first 100% fiber-optic network in the state of Kansas, and one of the first in the entire U.S. At the time of deployment only about 50,000 homes in the U.S. were connected to a FTTH network – CTC added about 2,000 more. The all-fiber network allowed CTC to not only provide voice service, but state of the art video and broadband services as well.
Historical Timeline
MAY 27, 1905 — KANSAS SECRETARY OF STATE OFFICE
The original charter of The Columbus Local of the Cherokee County Mutual Telephone Company was signed by J. R. Burrows, Secretary of State, Directors were John Wisewell, A. T. Lea, W. B. Lowry, J. Wilbur Logan, S. L. Walker & M. A. Householder.
JUNE 28, 1905 — THE COLUMBUS WEEKLY ADVOCATE
The first telephone to talk over the new Columbus Local was that of the Columbus Music House, and Thursday afternoon was the time of its installation. The Central office will be a very pretty business place. The fixtures are all new and give the place a very much up to date appearance. Of Course, till enough phones are installed there will be no attendant at the switchboard and the service will really not begin for several days yet.
1928 DIRECTORY — COLUMBUS LOCAL TELEPHONE CO.
Office located at 118 1/2 S Kansas Ave. E. H. Ellis, Pres.; R. E. Harris, V.P.; C. R. Aitchison, V. P.; C. J. Pruyn, Secretary; C. W. VanZandt, Treasurer.
NOVEMBER 12, 1936 — THE MODERN LIGHT
Work on excavating the basement of the new telephone building for the Columbus Local of the Cherokee County Mutual Telephone company, started a few days ago and workmen will soon begin work on the structure. The building which is to cost around $6,000 will be just south of the McAuley furniture store at the southeast corner of the square…. Directors of the telephone company are James Forbes, Calvin Cooper, Ed Blake, Tom DeVoe and C. W. Van Zandt, with L. L. Dean as secretary.
AUGUST 2, 1960 — STATE CORPORATION COMMISSION
Application of the Columbus Local Telephone Company, Inc. for a Certificate of Convenience and Authority to transact the business of a telephone public utility in the City of Columbus, Kansas.
JANUARY 31, 1974 — AMENDMENT TO THE ARTICLES OF INCORPORATION
Article First:     The name of the corporation shalll be "Columbus Telephone Company" Article Fourth:     "That the term for which this corporation is to exist is perpetual" Article Sixth:     "The amount of the capital stock of said corporation shall be $36,700, consisting of 1632 Class A shares of $16.00, and 940 Class B shares of $13.00 each.
JANUARY 27, 1991 — COLUMBUS DAILY ADVOCATE
Employees of the Columbus Telephone Company were busy at 6:00 a.m. today turning on the many individual switches of a new digital electronic switching unit.
JANUARY 17, 1996 — COLUMBUS DAILY ADVOCATE
While activation of new world CTC Internet access is approximately 15 days away, Columbus Telephone Company management announces that applications for the service are now available.
MARCH 20, 2000 — COLUMBUS TELEPHONE SCOPE (COMPANY NEWSLETTER)
Columbus Telephone Co. announces the start of Columbus Long Distance service. Now you won't have to wonder if your long distance calls will accrue to your capital credit refund.
JANUARY 2, 2004 — COLUMBUS DAILY ADVOCATE
A special introductory presentation of the new fiber optic cable television, telephone, internet system to be installed in Columbus in 2004….
DECEMBER 2004
First customer is turned up with new triple play of telephone, video and data services over the new fiber optic system, and only one bill for all three.
NOVEMBER 2011
Company launches newly branded image to coincide with the launch of new cable television service featuring HD programming.
JANUARY 2013
CTC announces it's next-generation fiber-to-the-home network, a network that will ultimately position the company to offer Ultra Broadband speeds of up to 1 Gbps.
JULY 2013
CTC completes installation of next-generation network. Now on its second-generation of fiber-to-the-home technology, CTC is enabled to eventually provide broadband speeds of 1 GBps.
AUGUST 13, 2014
CTC announces the company's first-ever network expansion, to be carried out by Optic Communications (www.optic-communications.com). Through Optic, CTC will be expanding its 100% fiber-optic network to Galena and Riverton, Kansas.
OCTOBER 1,  2014
CTC announces the acquisition of Parcom, LLC – the region's leading Verizon Wireless retailer. Parcom, LLC also specializes in enterprise telephony hardware ad services, such as PBX's.
DECEMBER 23, 2014
By way of Optic Communications, CTC announces construction of a fiber-optic "ring" in Cherokee County Kansas. The ring links the three largest cities in the county – Baxter Springs, Columbus, and Galena – on one fiber network. The company will offer Gigabit ethernet services to customers in all three cities in early 2015.
JULY 29, 2015
CTC subsidiary Optic Communications announces further network expansion to Pittsburg, Kansas. The network includes a fiber-optic ring around the city and Crawford County, Kansas.