Why should I choose Columbus for Telephone, Cable TV, and Internet Service?
Columbus Telephone is your local provider of Telephone Service, High Speed Internet, and HD Cable TV Services. All Columbus services run a 100% fiber network giving you the fastest speeds and dependability. We were the first all fiber network in the state of Kansas and one of the very first in the United States proving we are dedicated to bringing you the newest technology at affordable prices. To help simplify your life, all of our services come in one convenient monthly bill, from one company. It's reassuring to know CTC is your local service provider and our office is located where we serve…in the great town of Columbus, KS. Our employees are your friends and neighbors. We live and work here, pay local taxes and support other local businesses. We take great pride in making our community a better place for everyone.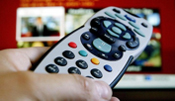 HOW TO GUIDE FOR CABLE TV
Click here to access our large FAQ for our new Cable TV system.  You may learn something you didn't know about!
LEARN MORE